Qualities

Kid Friendly, Pet Friendly, Friendly, Energetic, Loving, Smart, Playful, Intelligent, Cute, Adorable, Social, Loyal, Family Dog, Trainable, Healthy, Up to Date Shots, Pure Bred, Purebred, Agility, Toy
Additional Comments
Zane is a gorgeous chocolate and tan merle boy with intricate coloring. If you look at his other pictures, you can see that he has at least three shades of chocolate in his coat. It looks like his eyes may be blue, but that could change as he grows, so we will just have to wait and see about that. He's going to be a stunning boy, either way!

He will be ready for his new home around November 30th! Now accepting deposits! Our babies are raised in our home, where they are loved, pampered, and given the attention they need 24/7, making them social, happy, well-adjusted pups that fit well into almost any home environment.... (read more) All pups are started on paper training and crate training, and many are well trained when they go home. Each puppy has had vaccinations and and a full worming schedule before leaving. All of our babies are CKC registered, and we provide a one-year health warranty and lifetime support for each one. In addition, our website is a wonderful source of information for our new owners and all Chihuahua lovers. We offer air transport at the lowest possible rate. Rates do vary, depending on the season and the airline, but generally range from $270-350. Financing may be available to some users through PayPal Credit. More pictures and videos are available on our website or by request. So, feel free to visit our website at visit our website or to call (no text, please) or email Shayna for more information about little Zane!
---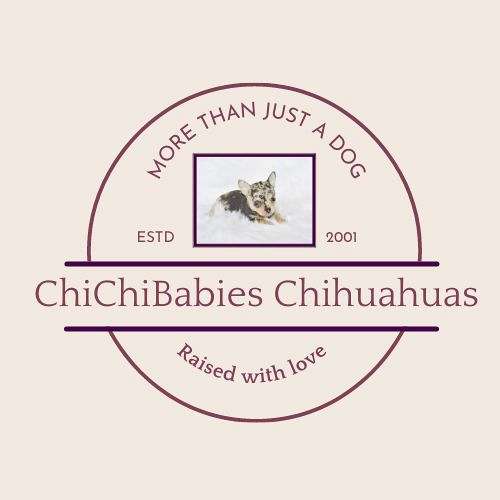 Chichibabies Chihuahuas
ChiChiBabies raises quality, healthy and happy Chihuahua puppies that are ideally suited for most families. Our adults are our pets, first and foremost. Our Chihuahua babies are raised in our home, where they receive round-the-clock care and attention. We have both coat types and every color possible in Chihuahuas, including chocolates, blues, merles and brindles. Our puppies go from the warmth and love of our home to the warmth and love of yours!... (read more) Every puppy takes home a puppy kit packed with care information, food samples, a blanket, and 24/7 lifetime support for you and your new ChiChiBaby! Visit our website, email or call today for more information.