Qualities

Kid Friendly, Pet Friendly, Friendly, Energetic, Loving, Smart, Playful, Intelligent, Cute, Adorable, Social, Loyal, Family Dog, House Trained, Potty Trained, Trainable, Healthy, Up to Date Shots, Pure Bred, Purebred, Toy, Teacup
Additional Comments
Let them amaze your world!!! They are available for deposit and have a loving-cuddly personality a plus for someone looking for a new best friend. As you can see, they have unique markings. Outdoor potty training start's at 4weeks old, based on past litters they'll catch on quite quickly. Vaccines and de-wormings are kept current. What makes them special is that they are used to the normal sounds of your home because they live inside ours.... (read more) They will be just the right size, small enough to go everywhere with you, yet big enough to safely get on and off the furniture. In a nutshell, they are ready to be your next best friend because they will keep all your secrets.
---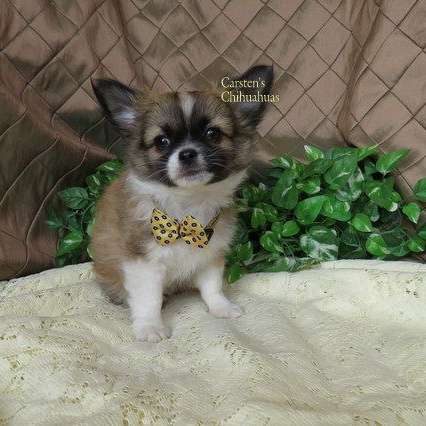 Carsten's Chihuahuas
All of our Chihuahua puppies are played with daily and live in the house, underfoot. They are used to the normal sounds in our home and hopefully yours. This is part of our socialization process. We feel that caring responsible breeders contribute an important service to the public in providing healthy loving pets for families. Most all our puppies will be in the 4 to the 6-pound range as an adult.... (read more) Occasionally, there are some that are a bit smaller, and maybe even a bit larger. We won't be able to guess their adult size until we can see their growth pattern. At about 4 weeks we start taking our puppies outside for them to learn the smells of outside and got to the bathroom out there. My goal is to get them excited to go outside. Since all our Chihuahuas live in the house with us (as he will when he goes to live with you), it is a big deal for us to get them to want to learn to potty out there, as well as, play or go for walks. Your puppy will still need some training and spoiling that includes the lifestyle of your home, which is something we can not do here. We view the homes our puppies go into as an extension of our family and are available with advice for your concern.