Qualities

Kid Friendly, Pet Friendly, Friendly, Energetic, Loving, Smart, Playful, Intelligent, Cute, Adorable, Social, Family Dog, Trainable, Healthy, Up to Date Shots
Additional Comments
Cannoli is a big ball of fur and personality. She's so sweet, but will let you know if she has a problem with you! She's hilarious.

Cannoli is a mini/medium F1B bernedoodle. She is a tricolor (black, brown, and white). Mother, Roxy, is a Bernedoodle (mother=Bernese Mountain Dog/father=standard Poodle). Father, Mighty Maximus, is a toy Poodle. This combination is ideal for less shedding than a first generation Bernedoodle. Puppies are estimated to be around 40lbs fully grown.... (read more)

Our website is: https://61646a67d5a8e.site123.me/

Puppies are family raised in our home. They are exposed to other dogs, cats, people and children. Puppies will begin learning to go potty outside at around 6 weeks.

We do not ship our puppies; absolutely no exceptions, so pick up is required.

Our puppies are like family and we love seeing them grow! We encourage all puppy parents to join our Facebook group to see and share photos of puppies, interact, and get and share advice with others.

Please contact us with your interest. We ask for a meeting over FaceTime/Skype/Zoom so that we can meet and you can meet the puppies. Non-refundable deposits of $500 are required to hold a puppy until 8 weeks.

Puppies will begin deworming at 4 weeks, and vet shots at 6-8 weeks. Puppies will come with information packets and a bag of food.
---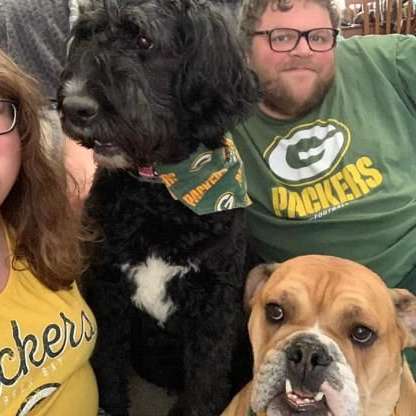 Bbkpuppies
Our names are Brett and Brittney, and we are part-time dog breeders. The mother, Roxy, is a Bernedoodle. This is our second litter (2nd generation breeders), and our puppies are born and raised inside our home. We developed good relationships with our previous buyers, and we are all on a Facebook page together. We share pictures, ask questions, and support each other on the incredible journey that is owning a dog.... (read more) We will not be shipping puppies (no exceptions). Reach out to us by email (our email address), and then we can give out our phone numbers so you can text or call us. If you call, please leave a message or else your call won't be returned. Zoom/FaceTime/Skype meeting is a must in order to buy a puppy. Thank you.