Qualities

Kid Friendly, Pet Friendly, Friendly, Energetic, Loving, Smart, Playful, Intelligent, Cute, Adorable, Social, Loyal, Family Dog, House Trained, Potty Trained, Trained, Trainable, AKC, Healthy, Up to Date Shots, Pure Bred, Purebred, Hunting
Additional Comments
Ace was whelped 12/14/18. He is half English and half American. He has the quiet English demeanor with the American drive. Panel testing shows clear for 19 genetic diseases carrier of CT and 1 Protective gene for CT. There are confirmation and field Champions in his pedigree. Ace can produce yellow, champagne, chocolate, silver, black and charcoal puppies. Stud Fee $1700

We currently have yellow, chocolate, black, fox red and dilute factored studs available.... (read more)

Live cover available weather permitting with a current Brucellosis test and Progesterone showing your female is ready. We only offer artificial insemination during the summer. We have three options for artificial insemination. The first option is at your veterinarian's office or clinic. We will meet you at your veterinarian's office or clinic twice. If their office is over 100 miles from us there is an additional fuel charge. If you choose to breed 3 or more days at your Veterinarian or clinic there is an additional charge for the extra trips to their office. The second option is a mobile a.i. service. I do have one that I recommend that will come here to breed. You are welcome to use your own. Option three semen can be shipped. The Studs fee does not include the Veterinarian or clinic charges. All Veterinary and or mobile a.i. fees are the Dam owners responsibility. Nature can happen and your female may not conceive. If that's the case in order to have your female rebred on her next heat for free a statement from your Veterinarian is required as proof, she did not whelp.

We have standard and dilute factored studs available.
---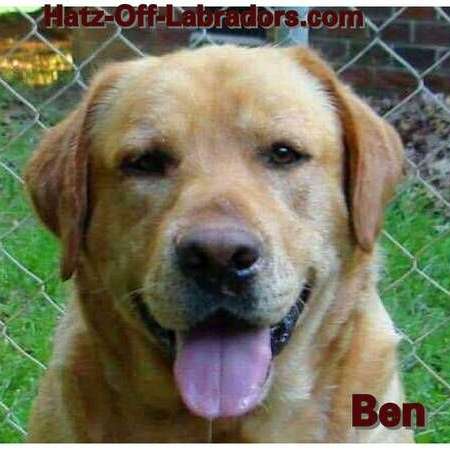 Hatz-Off-Labradors
Hatz-Off-Labradors, strives to breed Labradors that are geneticlly sound, with good minds, great temperaments, and versatility. Hatz-Off-Labradors was established in 1998. We are a home based kennel, small in stature, yet large in integrity. My puppies are hand raised, in a loving home. They are well socialized, having interacted with my children since time of whelping. Whether you are intersted in a wonderful pup or a handsome Sire for your liter we have it all.