Qualities

Kid Friendly, Pet Friendly, Friendly, Loving, Smart, Intelligent, Cute, Adorable, Social, Loyal, Family Dog, AKC, Healthy, Up to Date Shots, Pure Bred, Purebred, Toy
Additional Comments
Bubbles is affectionally and appropriately named for the joy and fun of bubbles! She goes where she wants and owns her environment. Have you ever been there when a toddler sees a bubble blowing in the wind for their first time, well that is how this sweet girl feels about everything in life! If she could laugh out loud I am certain he would. She has a vivacious love for life, even at such a tender age. If love and laughter is what you need, look no further!... (read more)

Bubbles will come to your family with energy and the interest for life that only a puppy can bring. She has been socialized to the world around her and is ready to interact with the furry friends you already have, or to blaze new trails as your first canine companion. She started early with neurological stimulation at just four days old in our family home.
Our talented experts estimate that she will mature to between 8 and 11 lbs, making her an ideal house pet for any living situation. Our mini schnauzers are purchased quickly, so be sure to place your deposit today. Give your hesitations the day off and welcome this fabulous miniature schnauzer puppy into your life–you won't regret it!

Bubbles is ready for you! She's been microchipped and is current on all vaccinations and dewormings. She's prepped and ready for her trip, with her favorite rope toy, one pound of premier puppy food, a toothbrush, shampoo, a treat, an information packet for you, and our second-to-none 10-year health guarantee.

Here at Lucky 7 Schnauzers, we know that sensational results take time and effort. Our puppies are bred with a purpose and raised with love from day one, so you can have peace of mind knowing that you're getting the best of the best! You've got questions and we've got the answers, so don't hesitate to call us today.

Concerned about potty training a new puppy? Our proprietary potty training system sends your new puppy home well-trained after four weeks of intentional hands-on coaching and guidance for an additional $1500. This will also include stay bed training, leash training, stable sit, stable down, crate trained, and properly socialized to be the best companion to your family.
---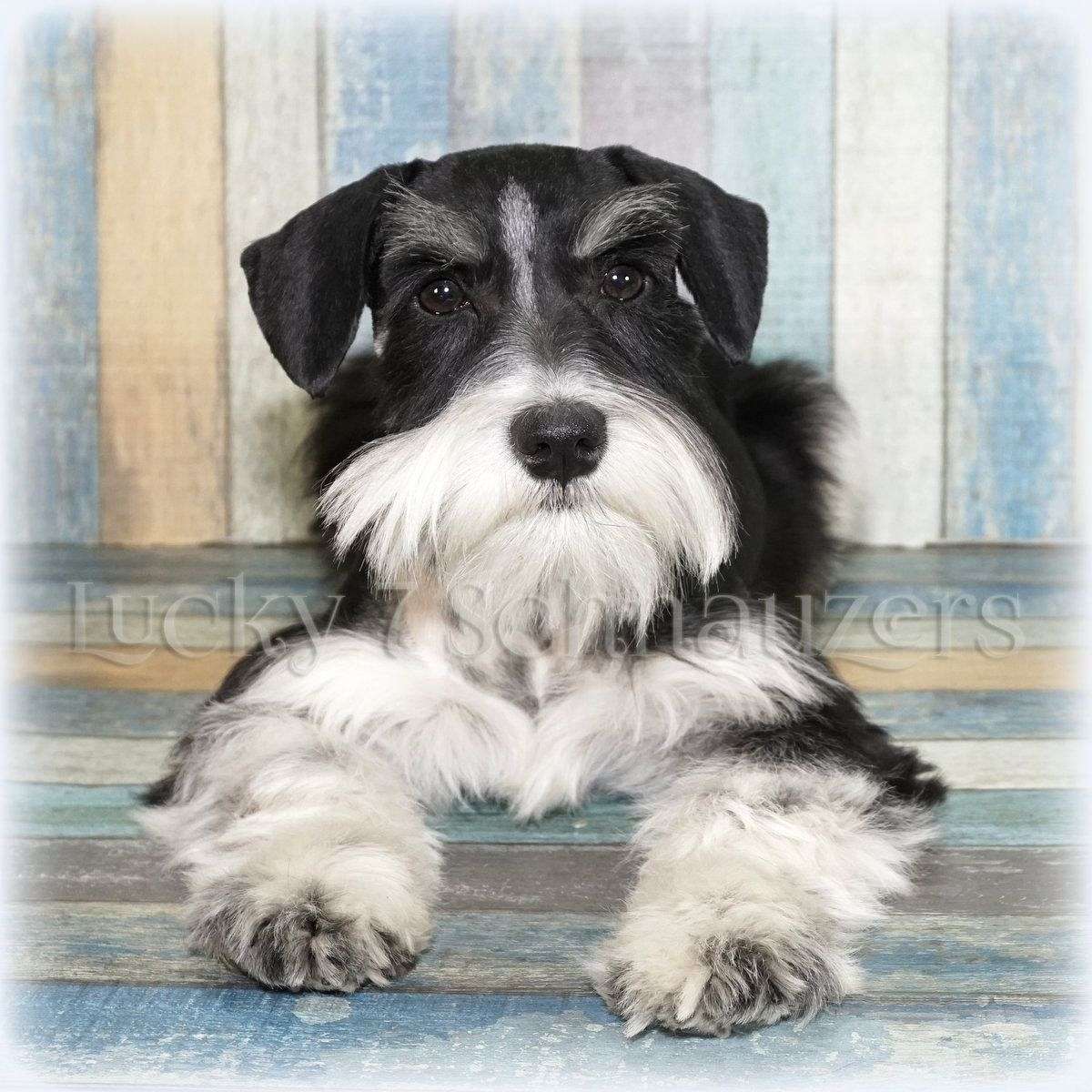 Lucky 7 Schnauzers
What we do: We strive for excellence in everything we do. All of our Toy Schnauzers, Teacup Schnauzers and Miniature Schnauzers are OFFA tested, any breeder you inquire with should have this testing done. Our adult Toy Schnauzers, Teacup Schnauzers and Miniature Schnauzers are carefully selected for personality, body structure, hair coat, trainability and have been tested to be free of common genetic disorders; this ensures our offspring inherit good health and longevity.... (read more) All of our Toy Schnauzers, Teacup Schnauzers and Miniature Schnauzers are registered with the American Kennel Club and we are part of the AKC's Bred with H.E.A.R.T program. We have over 30 years experience in breeding dogs, horses and cattle. We have been breeding the highest quality animals for 6 generations on the same land. We are more than just a breeder; we are trainers, handlers and animal advocates. Your Toy Schnauzer, Teacup Schnauzer and Miniature Schnauzer puppies will go home with correct and versatile socialization to the world around them, and will make an easy transition into your home to become a wonderful forever companion and family member. Each Toy Schnauzer, Teacup Schnauzer and Miniature Schnauzer puppy starts early neurological stimulation at 4 days old, and continues until leaving our home. Five benefits have been observed in canines that were exposed to the Bio Sensor stimulation exercises. Here's what does early neurological stimulation does for your Schnauzer puppy long term: Improved cardio vascular performance (heart rate) Stronger heart beats Stronger adrenal glands More tolerance to stress Greater resistance to disease. Both experience and research have dominated the beneficial effects that can be achieved via early neurological stimulation, socialization and enrichment experiences. Each has been used to improve performance and to explain the differences that occur between individuals, their trainability, health and potential. The cumulative effects of the three stages have been well documented. They best serve the interests of owners who seek high levels of performance, when properly used. Each has a cumulative effect and contributes to the development and the potential for individual performance.